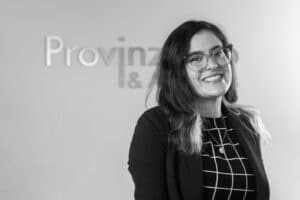 Anni is an associate attorney at Provinziano & Associates. She comes from a home with two immigrant parents that instilled in her the value of working hard to achieve results and always pushing forward, regardless of the struggle. Anni's lifetime interest and love in English language and literature led to her completing her Master's Degree at the California State University, Los Angeles.
Anni later attended Southwestern Law School in their prestigious SCALE program and was a Dean's Fellow, an elite program of a group of students with exemplary academics who serve as teaching students for lower division students. Her previous experience as a clerk for Pasadena Family Law Judge Harvey Silberman allowed Anni insight into the complexities of Family Law, how to argue any type of custodial matter, and understand the decision-making process of Judges. This valuable and rare experience and time spent with Judge Silberman and the court, included sitting in on in chamber discussions, reviewing arguments and rationale of both attorney's and judges, and how to approach various types of cases from all walks of life. Anni also enjoyed and furthered her skills in settlement and negotiating, a high priority in Family Law, during her time at the Pasadena Court House, as she was a finalist at Southwestern's Negotiations Honor's Program.
Today, Anni works to promote children's well-being and to protect their rights as families go through difficult times and seek her assistance. She is passionate about settling high-conflict cases and relieving as many stressors as possible, as she understands that her clients may be going through a difficult time.
When Anni is not working, she loves spending time with her family and friends while partaking in activities such as riding motorcycles and collecting first pressings of vinyl records.